Ah Costa Rica! What a dream you are! Easily one of our favorite countries and a place we have been wanting to explore for some time. Since our move from Spain we were dying to put our Spanish to use and we landed on Costa Rica for a dreamy get-a-way. Although there is A TON to see in the country of Pura Vida we stuck to the the Middle/West of the country but don't worry we will be back to explore the rest!
We landed, rented a car, and headed straight for the town of Arenal that sits just beneath a dormant volcano. We stayed 3 days before moving on to our next stop but you could easily spend more time here!
Our cute hotel window had an epic view of the Volcano and I felt like we had stepped straight into Jurassic Park! We stayed at the Arenal Volcano Inn and it was cute and quaint. We lucked out with some adorable sloths living in the trees surrounding our room. They are native to Costa Rica and a bit difficult to spot unless you are looking.
There are plenty of things to do in Arenal but we decided on a zip line excursion! You can also find many tour groups offering kayaking, hiking, ATV's, and so much more!
Our favorite local find in Arenal was the hot springs! There are resorts that offer a day pass to their natural hot springs turned pools but it can cost you a pretty penny! Up to $80! So we asked around and found where the locals go and it was so beautiful! Be sure to take your water shoes as you will need it walking in/out of the springs!
Here's how to get there:
Input the Tabacon resort into your maps and head that direction. Once you past the Tabacon resort on your left you will see some cars parked on the side of the road just to your right. There is a local guiding parking! Just pay him a few bucks and he will show you the way 🙂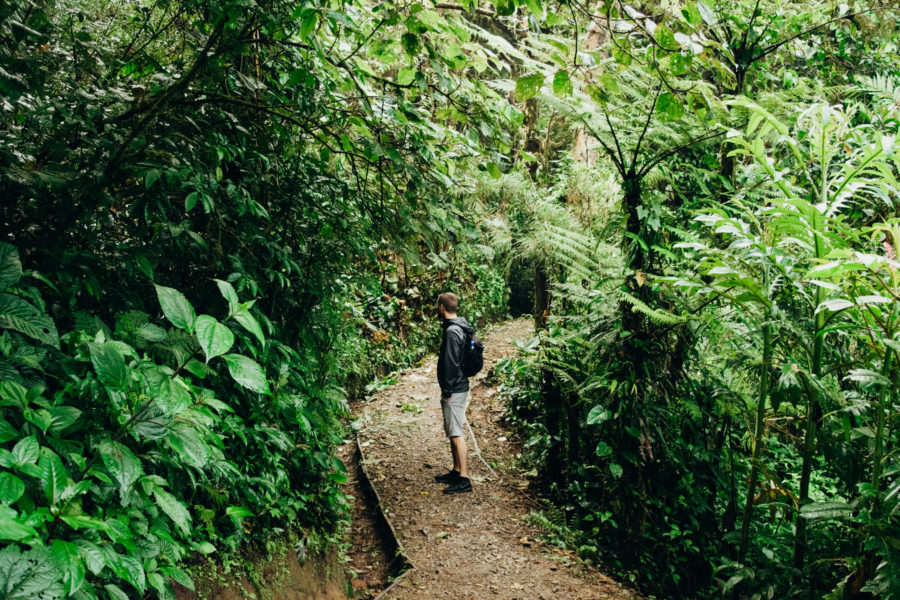 Our next stop was MonteVerde to explore the Cloud Forest Reserve. It was crazy beautiful! We stayed at Cabanas Bosqus De Paz just for one night and it was perfect for our short stay. By the time dinner rolled around we were engulfed in fog and it felt straight out of Twilight. There is something special about staying somewhere surrounded by nature.
Tips for visiting the Monteverde Cloud Forest Reserve:
Arrive early. Because it's popular you may run into groups on tours. Best to get there early to avoid lots of people on the trails.
Wear good walking shoes. Hiking boots aren't necessary but you will need a good pair of shoes for the amount of walking.
Keep your eyes peeled for sloths! They can be tricky to spot but pretty cool to admire when you find one.
Snap a pic on the famous red suspended bridge. Take in the views around you while your at it!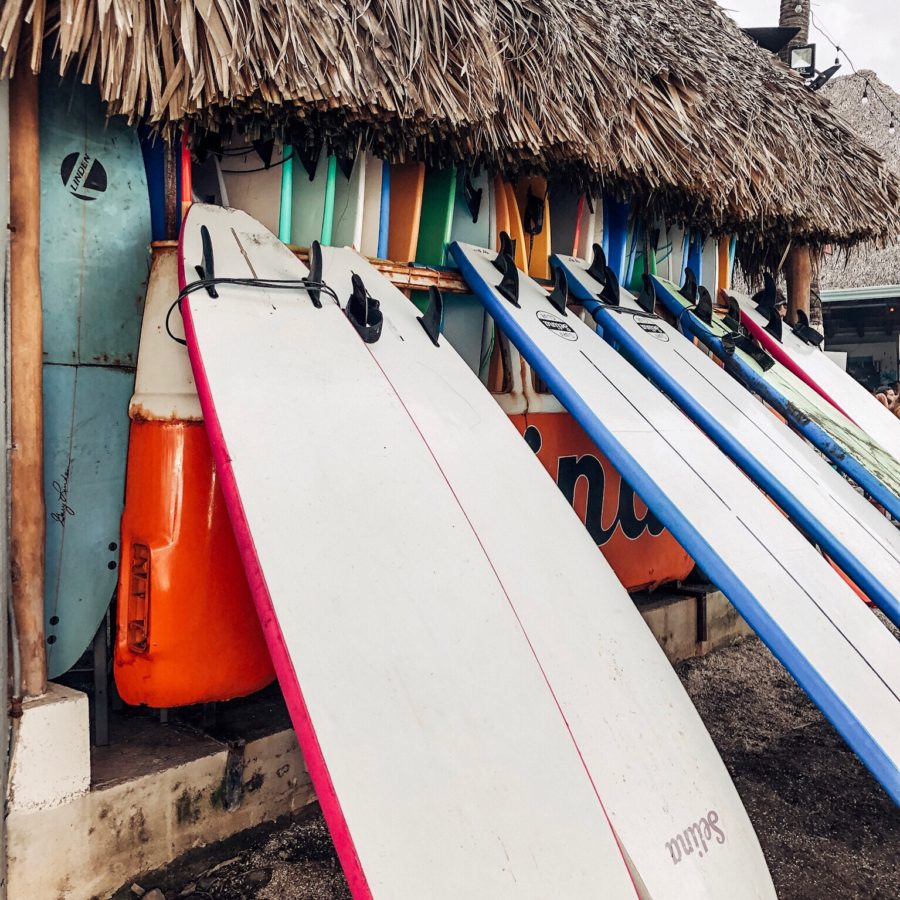 After all that adventure we headed to the coast for some beach time! We settled on the the surf town of Jaco and spent the remainder of our trip on the beach.
Make sure to catch a surf lesson or two while you are here! Jaco is famous for it's surfing and it's surf houses like Selina! We took our first surf lesson at Tortuga Surf School and it was SO DIFFICULT. The most physical thing I've ever done and we both felt exhausted afterwards. Major respect for those of you out there that love to surf!
If yoga is more your thing. There are a few places in town that offer some great classes! Be sure to check those out!
The beach itself in Jaco isn't the most beautiful so we found ourselves a secret little beach! Its a little tricky to find but we are here to help! Map yourself to Playa Mantas on google maps and head that direction. It should be about a 30 min drive north of Jaco. Once you find yourself on the road to Playa Mantas drive as far in as you can till you reach a parking area where you will need to pay cash to park. They will then direct you if you ask for help to get to Playa Blanca! Its a short walk heading back south along beach and you'll need to wear sturdier shoes than flip flops! Once you walk along Playa Mantas heading south, there will be a little rope to help you over a small ridge and then you'll hike a few steps down to the secret beach!
Make sure you head back before high tide or it can be a little dangerous. We left with a few scrapes and bruises that day!
Jaco insider tips:
Bring Bug Spray (and sunscreen too)
Carry cash for parking and quick eats (most places accept US dollar)
Places to Eat– The Pizza Shop, Taco Joint, and Taco Bar Jaco
Loved our stay at Oceano Boutique Hotel
Take a day trip to Manuel Antonio National Park on your way back to the airport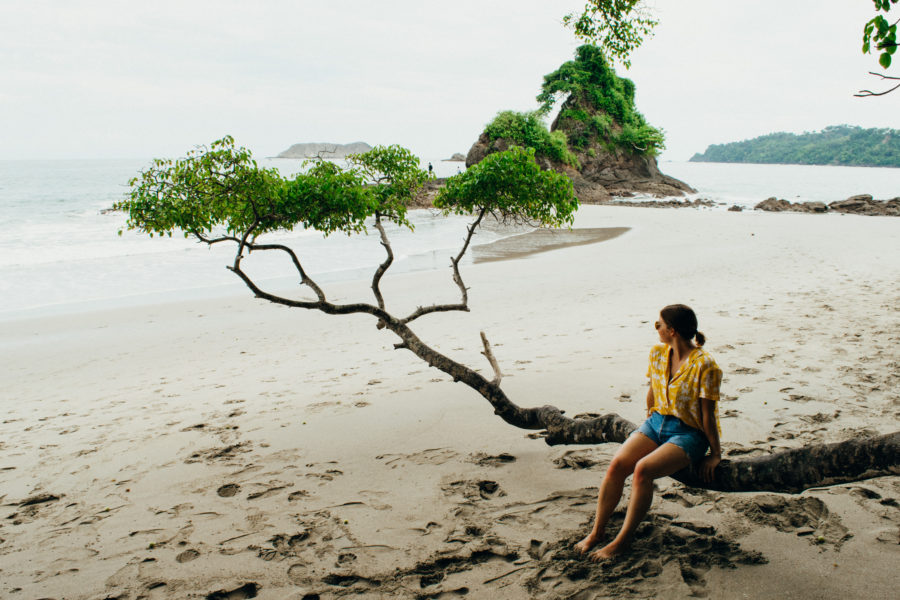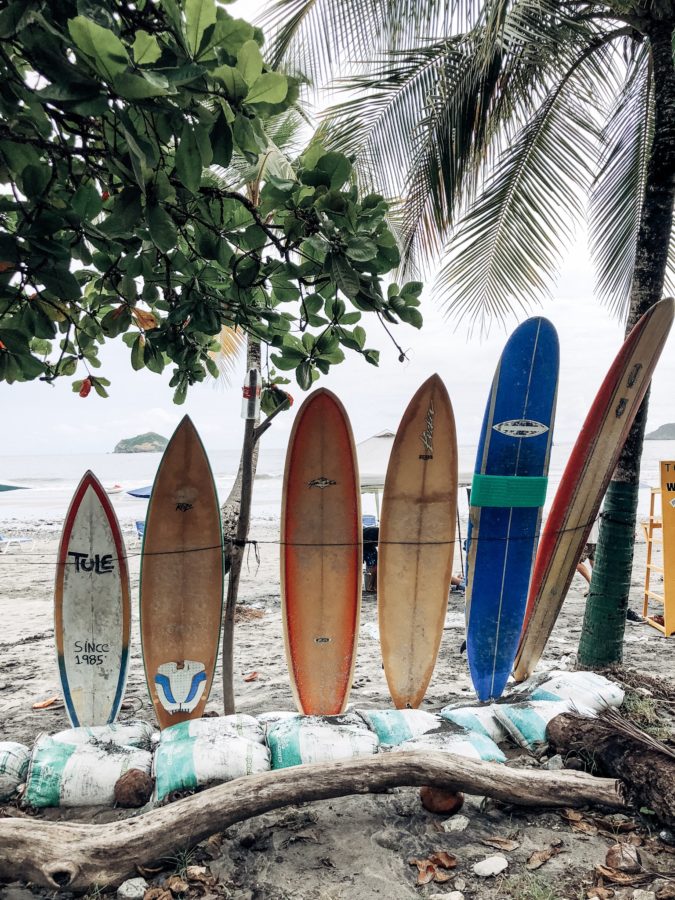 Costa Rica is special. We loved practicing our Spanish with the locals, being in nature, and soaking up the sun in clear blue water. I think I say this about all of our trips, but we will head back to visit soon. Life truly is "Pura Vida" in Costa Rica.
xoxo
Pin it for later!