I've had this post in my draft folder for months…maybe even a year at this point. We lived in Barcelona for close to two years and fell in love with the city hard and fast. It's one of Europes most popular tourist destinations so we are here to walk you through it! Stick with us as this post is a long one full of great info!
First things first. Decide what time of year you want to visit.
The summer (June-August) is usually very busy and most of Spain shuts down during august as the locals take that time to travel themselves. We recommend visiting September-November or April-June. Normally the city isn't bustling with a ton of tourists during those times and you can still enjoy the Spanish sun! Prices will also be lower during the off season so you could save a lot on plane tickets and hotel stay as well.
You need at least 5 days to really see Barcelona. You can do it in fewer, but to really enjoy what the city has to offer we suggest 5 days.
Where to stay
There are plenty of options when it comes to searching for places to stay in Barcelona! While traveling we tend to use Airbnb or Hotels.com for good deals! If you plan to visit in the summer months, book early as things sell out quickly. Here is a little about each neighborhood to help you in your search!
Gracia:
Gracia is a lively neighborhood full of good food, cute bars, and cozy streets. Nestled just below the hills and Park Guell, your not far from some of Barcelona's major sites! Gracia can be a bit noisey so keep that in mind if you have kids!
Sarria:
Super quiet part of town that really feels like old time Spain. Most locals in this area only speak Catalan and its rare to see a tourist wandering through. We lived here for the duration of our stay in Barcelona for its close proximity to the school Carson attended. Took us about 25 mins on public transit to reach the center of the action.
Gothic Quarter:
The charming Gothic Quarter, or Barri Gòtic, has narrow medieval streets filled with trendy bars, clubs and Catalan restaurants. Artisans sell leather and jewelry near the Cathedral of Barcelona, while flower stalls and street-food vendors line busy avenue Las Ramblas. Flats in this area rarely have an elevator so keep that in mind!
El Born:
The trendy El Born area is characterized by narrow medieval streets offering designer boutiques and cafes by day, and cocktail bars and samba at night.
Eixample:
Eixample is convenient as its a super central location. You are likely to find more hotels in this area as well as a good selection of restaurants and bars. Great area for night life!
what to see
Sagrada Familia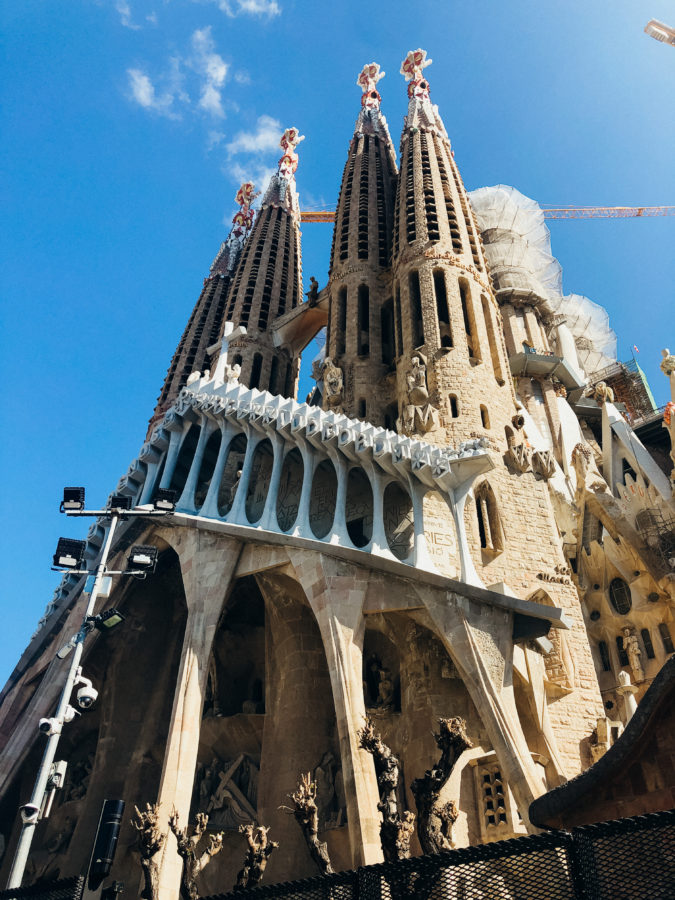 Get tickets in advance as they tend to sell out on the day of! You can also beat the line by pre paying for tickets. The Sagrada Familia began construction in 1886 and is still unfinished. Designed by Catalan architect Antoni Gaudí, his work on the building is part of a UNESCO World Heritage Site. It is hands down one of my favorite sites in all of Europe! Don't miss it!
Park Guell
Park Guell is another famous landmark of Barcelona also designed by Gaudi. If you have ever googled Barcelona, Park Guell is likely what google images will show you! It's a large outdoor park that is mostly free! The monument area is a paid ticket and contains the famous overlook of the city as well as more work designed by Gaudi. We suggest getting a ticket online previous to your visit as it does sell out!
Casa Vicens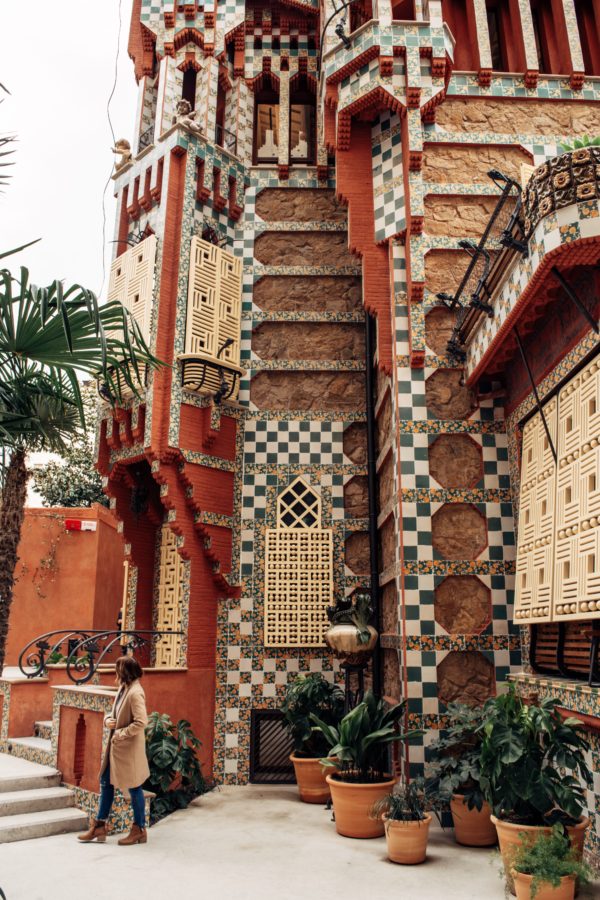 Another site designed by Gaudi and our MOST FAVORITE in Barcelona! Casa Vicens was recently opened to the public and is a must see! It's vibrant and full of color and texture. Casa Vicens is located in the neighborhood of Gracia which is a lively area full of great food and just down the hill from Park Guell. After seeing Casa Vicens, spend some time walking through the charactered streets and grab some tapas at one of our favorites, La Pepita!
Montserrat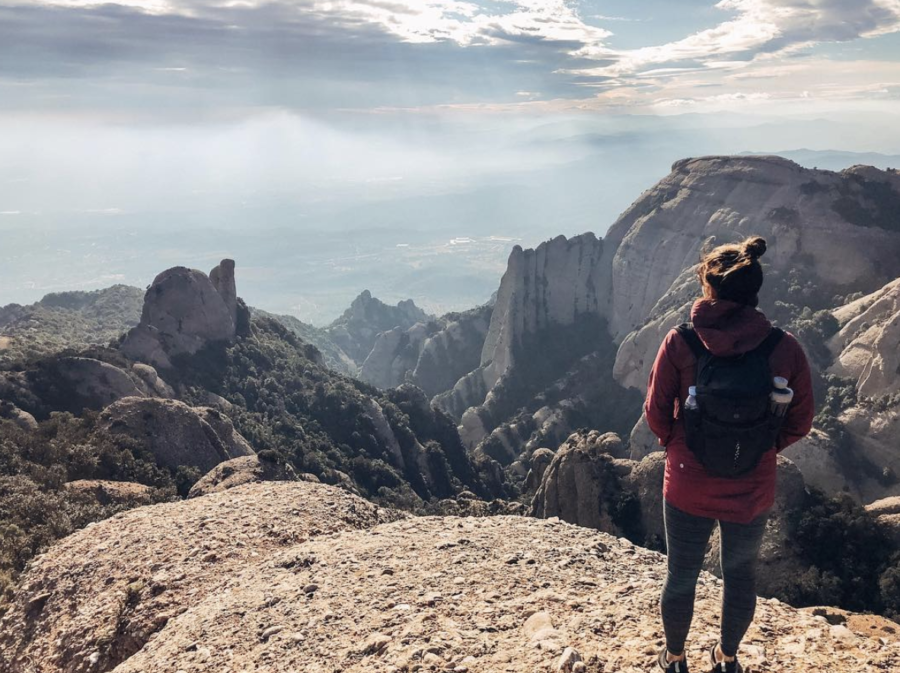 Montserrat is a Monastery nestled into the mountain side just outside Barcelona. You can take a beautiful train ride out of the city for a day of fresh air and hiking. Head to From Plaza Espana in Barcelona, take the R5 line to Aeri de Montserrat. The journey by train takes approximately and hour and a half. Tickets can be purchased directly at the station.
Passieg De Gracia/La Pedrera/ Casa Batllo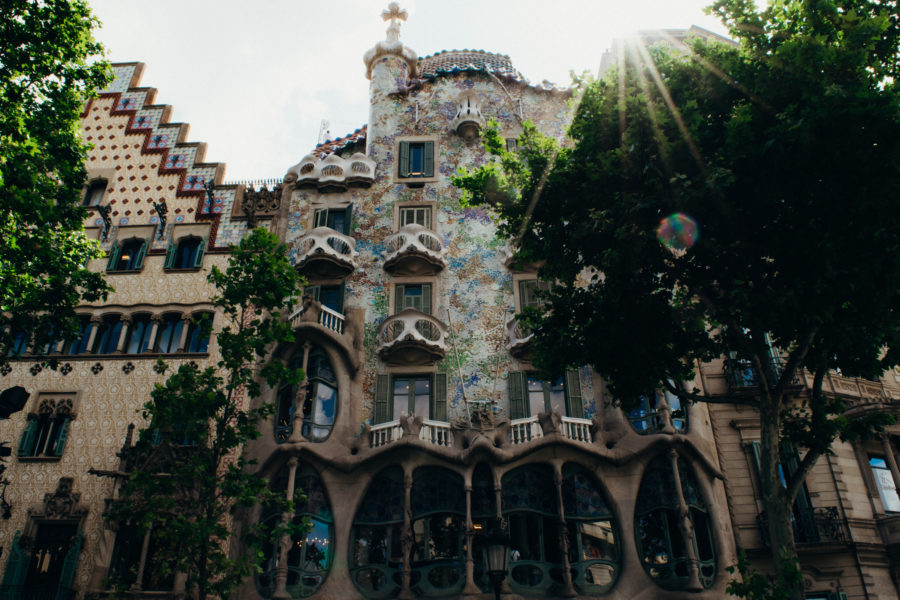 Take a stroll down Passieg De Gracia for a couple of reasons. Firstly, for some great European shopping and secondly you'll come across two more of Gaudi's famous landmarks. La Pedrera (pictured first above) is the last private residence of/designed by Gaudi. The building is an UNESCO site and just few streets away from the famous Casa Batllo. Casa Batllo was designed by Antoni Gaudí, and is considered one of his design masterpieces along side the Sagrada Familia. A remodel of a previously built house, it was redesigned in 1904 by Gaudí and has been refurbished several times after that. There is usually a queue so buy your ticket in advance to save some time.
Other sites to see
Catherdral of Barcelona
The Cathedral of the Holy Cross and Saint Eulalia, also known as Barcelona Cathedral, is the Gothic cathedral and seat of the Archbishop of Barcelona, Catalonia, Spain. The cathedral was constructed from the thirteenth to fifteenth centuries, with the principal work done in the fourteenth century.
Las Ramblas
Las Ramblas is probably one of the busiest areas in Barcelona. The street itself is quite famous and full of tourist shops. A tree-lined pedestrian street, it stretches for 1.2 kilometres connecting Plaza de Catalunya in the center to the Christopher Columbus Monument at Port Vell. Las Ramblas forms the boundary between the Gòtic neighborhood, to the east, and El Raval, to the west. Don't miss the famous food market, La Boqueria, while strolling towards the port.
Badalona/Barceloneta Beach
Do I even need to give you a reason to visit the beach?! Barceloneta is busy but easy to get to! Be aware of people trying to sell you things and just politely refuse. Our favorite place to eat at the beach is Surf House. Don't miss their tasty, healthy food!
Badalona is a bit further out of the city but definitely more quiet.
Day trip to Sitges
Sitges is about a hour trip outside of the city (an easy train ride) and it is an adorable beach town. If you have a spare day don't miss it!
what to eat
We collected the Best Places to Eat in BCN awhile back so be sure to check those out by clicking here! But since then, we've gathered a few new ones to add to your food bucket list!
Bistro Levante: YOU MUST EAT HERE. We are slightly obsessed with this place and I could eat their hummus for breakfast lunch and dinner. Order the Whipped Lebne tart for desert and savor every bite for us!
Flax & Kale: The most LA spot you'll find in BCN. Fresh pressed juices and lots of tasty, healthy options to balance out the patats bravas and paella!
Bar Tomas: The BEST/MOST FAMOUS Patas Bravas in all of Barcelona. It's cash only and you'll sit among loyal locals to enjoy a true taste of classic spain.
Ugot Bruncherie: Quite possibly my favorite place to eat breakfast in Barcelona. Get there early or make a reservation. The space is quite small and tends to fill up fast!
pro tips from the james gang
We love Barcelona dearly and plan to visit as often as we can. Let us know if you decide to visit and find your favorite spots! Here are a few things to keep in mind to help your visit go smoothly!
Public transit is easy! No need to rent a car but if your feeling brave, rent a scooter to zip around the city like a local.
Keep an eye on your belongings. BCN is notorious for pick pocketers.
Most people don't speak english so be patient with the locals! Learn a little Spanish before your trip to aid in easy communication!
Wear good walking shoes. The best way to see a new city is on foot so don't miss out spending it in a cab.
Take some cash. Lots of places except card but most smaller markets will only take cash.
xoxo
PIN THIS FOR LATER